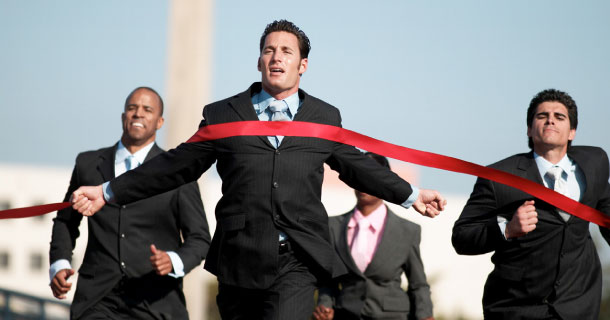 Imagine you are in a contest and were competing against 100 other agents.
The goal is to be the first to generate a bona fide buyer or seller – that is someone that is ready to put their home on the market with you or to write an offer on a property.
The prize is $25,000! But there can be only one winner.
What would you do to win? Would you:
Quickly sign up for an online lead generation company to send you cold leads?
Would you start knocking on doors or cold calling?
Would you call expired listings or FSBOs in your area?
Or would you open your database and start connecting with your past clients, sphere, potential clients, and people who know and love you?
Most agents know their path to the prize is with that special group of people – their database. Comprised of raving fans, that is definitely where they would spend their energy. Even if that group of people didn't have a real estate need at that moment, they probably know someone who does and would definitely sing your praises.
So if agents know that their relationship with that database can translate into thousands of dollars in prize money, or commission, why are so many agents struggling to get buyers and sellers in this very challenging low inventory market?
A few weeks ago, I wrote an article called: Leverage – A Way To Give Yourself a Raise. In that article, I presented an exercise where I asked my readers to analyze their last few transactions and rate the money, time, and stress costs for each transaction.
I just asked my ENCORE group (my coaching group) to do this exercise today and the results were very interesting and ties into the above concept beautifully. Not only was it easier to secure those listings and buyers, but those transactions ranked the lowest on the stress scale. This was due in part to the already-existing relationship as the agents felt they didn't have to start all over "proving" they were the best person for the job. Furthermore, there wasn't the stress that buyers would sign with an agent holding an open house or decide to go with a discount brokerage in the 11th hour. They found that cold leads that came from an online lead generation service resulted in some of the more stressful transactions.
In addition, they found the time costs were also less with the clients that were in their database. Again, that already-existing relationship resulted in the ability to be more proactive and in the end, served everyone better.
If you have not done this exercise for yourself yet, I encourage you to do so. The results may surprise you!
If this article convinces you to step up your game when it comes to your database, here are five easy things you can do to enhance those relationships over the summer and set yourself up for a great fall. Some of these obviously take more time than others, but all will provide you with some tools to strengthen your relationship with your database:
Start a Monthly Mailing Campaign
If you have not already started a monthly mailing campaign to your database, this should be priority #1. If you are a Club Zebra member, you are welcome to use my Club Zebra articles and some local stats or homes sold. Determining a print and mail plan isn't difficult; you just need to do it!
Reconnect with Your Database
Call, text, email, etc your database and offer a complimentary in-person meeting to discuss what is happening in the market in their area and help them develop a five year plan. This will allow you to connect, see the state of their home currently, perhaps discuss improvements, and determine if they are considering a move in the next five years. This allows you to be proactive and let them know if you see a market change which could affect their plan.
Hold a Live Class or Seminar
This could be a class on anything from buying a vacation home or investment property, how to plan for a bathroom or kitchen remodel, or even how to create a backyard living space. The idea here is you are providing them with education. You can team up with other industry professionals so you aren't doing the whole thing by yourself.
Create a Neighborhood Report
Break your area into ten or so neighborhoods and create a special neighborhood report. The goal is to let them know how their investment has fared from a neighborhood perspective which includes:

Stats: graphs on changes in median sales prices, active listings, pendings, solds over the last 10 years.
Current market information: include information on market time, list to sales price ratios, months of inventory or absorption, price per square feet, etc.
Current inventory: devote a section to the homes that have sold in the last 3 months or so and indicate any notable sales.

Target High-Demand Niche Properties
If you have homeowners with special, high-demand niche product, do a specialized mailing to those owners in your database and show them how much their homes have appreciated. For example, in many markets, ramblers (single story homes) are a high-demand product. They may decide to sell and capture their increased equity. Other types of product that falls into that category may include condos in urban areas, homes with two master suites, or other product that is quickly consumed in your market.
These are just a few ideas to get you started. The key is to find something that is a good fit for you and it needs to be something the folks in your database will value. Spend some time with and on your database this summer and you will be sure to win come fall!