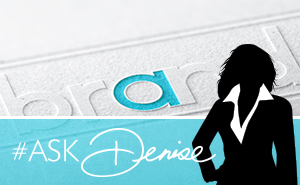 Q: "Denise, I have been on the fence regarding getting a brand for ten years now. On the one hand, it would be nice to have a logo and a signature on my email, but on the other hand, it seems like such a big expense to have for a few things. Bottom line, do I need a brand or not?"
A: I absolutely think that everyone in business should have a brand. Your brand is the visual reminder about you, your business model, what you bring to the table, and why you are different.
But I challenge you to think differently about how you would use your brand as I think you are thinking too small. Once you build a brand, it should be applied to all the different systems in your business. When you list a house, your brand and elements should be included on the house flyer, just listed cards, feature cards, and the home book. When you hold an open house, the materials that you have in the house should include your brand. When you email someone, your email should include a signature that includes your photo and elements of your brand. When people visit your website, your LinkedIn profile, your Facebook page and your Instagram account, they should all look cohesive with your brand elements. If you only use your brand here and there, you are missing an opportunity for visual impact and the opportunity to remind people that you are your own unique business.
Think about some of the top agents in your marketplace. I bet they have brand that includes a logo as well as a color and font palette. I bet that when you see their signage, a flyer, or an online ad, there is an impression that goes along with that. You might think, "Oh! It is a Agent Name listing. I bet there is an online video that showcases this listing." Or "I am sure this is meticulously staged." Their brand elements have become synonymous with a certain type of service.
That is the goal of branding. Hands-down it was the best thing I did for my real estate business. It has completely changed the businesses of many of the real estate agents I coach and train. The confidence-building alone that a brand provides is life-changing.
I would love to show you more about putting the power of a brand and systems to work for you at my upcoming Revolutionize Your Business with Systems class coming up June 25th . Here are the details:   https://www.thelonesgroup.com/calendar.asp?op=item&id=1270