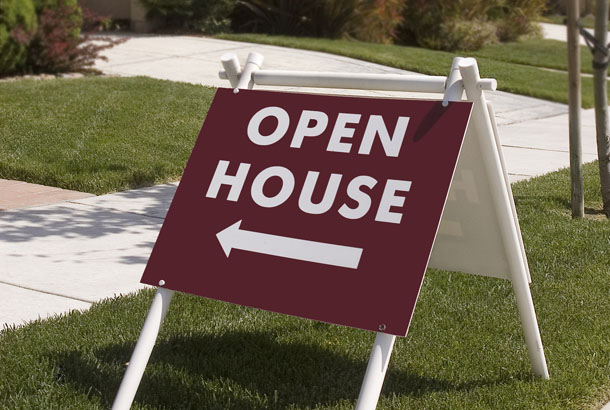 As the third installment of my open house series, I want to discuss how you prepare for your open house, and then how to actually host a highly successful open house. 
In order to have a highly successful open house you must prepare, prepare, prepare. Simply showing up at an open house with a couple of directional signs and some flyers is not enough! If you're like many agents who tell me "Open houses don't work", I'm willing to bet that signs and flyers are your only open house tools. That simply is not enough!
Let's talk about what you do need to do in order to create the kind of open house success you are looking for.
BEFORE THE OPEN HOUSE
It goes without saying that having systems in place will simplify your life – and your open houses!  Once you know exactly what you need for each and every open house you'll find it extremely easy to get prepared ahead of time.
I recommend that all of your printed pieces – from signage to marketing materials – feature your custom brand. This is one of the best ways to stay top-of-mind with potential buyers and sellers, and stand out in the crowd of open house agents.
Some agents like to have an open house planning list to keep track of what needs to happen the week prior to the open house. Using this kind of checklist is very helpful because it keeps you on track.  You won't forget one of the key essentials of your successful open house program if you're managing your activities with a checklist. Regardless of whether you do or don't create a list, below are the items that I think you must have on your open house checklist.  These can easily be customized for every open house you do.
Do the research. I talked about this in last week's Zebra Report. In order to have a successful open house, you need to strategically select properties that offer the best opportunities for buyer and seller traffic. Do you remember what I said last week?  Instead of letting the property choose you, you need to choose the property. If you're not sure how to do the research, go back and read last week's Zebra Report, entitled "Put on Your Thinking Cap".
Plan your advertising. I also talked about this last week.  You must take the time to prepare a well-executed online and print advertising campaign. Simply putting an ad in your local paper will never generate the kind of traffic you want – or should expect.
Create an "Open House Book". Provide additional value to attendees by offering a take-away open house booklet which includes full-color pages of information on your listing, as well a "tour of homes" sheet that has information on other comparable listings. You can also include a map showing each home's location, and a one-page profile detailing your expertise.

Create custom branded display boards. A little later in this Zebra Report I'll talk about display boards – what they are, how to use them, and why they are so important to your business. There is preparation needed for display boards – but once you have the format, it's easy to update them for each house, or each neighborhood.
Plan your signage. If you're looking for a very easy and inexpensive way to create a buzz around your open house, consider attaching an open house rider to your yardarm sign. This works well if you typically hold open houses on the same day and time … say, Saturday from 1pm-3pm. Attach your sign-rider on Thursday to alert people ahead of time about your open house. (Remember to remove the sign after your open house, however, or your sellers may be surprised the following weekend by a knock at the their door!)
Create invitations. If you've done your research, and you know who the most likely buyers are for the home you are holding open, send them a personal invitation. Postcards are a great option!  They are inexpensive to create and mail, and they offer a quick and colorful way to catch potential buyers' attention. Don't forget to go through your database and think about people who would also be good move-up or downsizing buyers.
Plan for a "neighbors only" open house. Again, use postcard invitations and explain that not only do neighbors get a private viewing of the home, you will also have valuable market and/or neighborhood information that you can share with them.
Plan your technology. There are a lot of options here, depending on whether you use video, social media or email invitations. Think about what will work best for you, what technology skills you have, and how savvy your market's buyers and sellers are.
Shop for snacks and beverages. Depending on the home and the seller's wishes, consider providing bottled water and some sort of snack. When you buy in bulk, you'll save money upfront, and you'll not be scrambling at the last minute to buy what you need.
DURING THE OPEN HOUSE
It's what happens during your open house that will 'wow' attendees, elevating your open house from lackluster to amazing.
Even if you've done an amazing job preparing for and getting people to your open house, that's only the beginning. Unless you provide a welcoming and professional atmosphere, visitors will likely walk in, and then walk out. Capturing their attention with eye-catching visual props (and accompanying information) is critical to building relationships – and building your business.
How to welcome attendees. You've put your open house signs on the street corners and at the curb, but have you considered how effective a 'Welcome' sign would be either on the front door or as a tent-sign on the front porch? What an engaging way to tell people "come on in – this is the right house – take a look around." Most agents have never thought of doing this, but in fact it's a very nice way to welcome your guests. And, if you use your custom branding on your 'welcome' sign, you've now set the tone for a higher-level, professional experience for your attendees.
Do you have a sign-in policy? Some agents have no problem putting out a sign-in sheet; other agents feel it can destroy a budding relationship in seconds. Personally, I have rarely seen this done well. If you are comfortable asking people to sign in , that's great. If you're using an excuse such as "my sellers are requesting you sign in for security purposes" be aware that open house visitors have been hearing this for years, and it may backfire on you.
Really know the best features of home and the surrounding area. People not only buy houses, they buy neighborhoods and surrounding areas. Identify at least five or ten area features and be able to talk about them comfortably.
Display features and benefits visually. This is a must-learn skill – not only for your open houses, but for every piece of home marketing you do. For every feature you want to highlight, there must be a corresponding benefit. Here's a great example: if the home has a solid oak front door with heavy-duty hardware, the benefit is a heightened level of security, as well as exterior noise reduction. Once you have your list of features and benefits, create tent cards that you can place around the house to describe these to visitors.
Provide a personal brochure. Granted, you are selling the house.  But you are also selling yourself and your professional skills. A brochure is a terrific take-away that explains more about you, how you work, and the services you provide to both buyers and sellers.
Provide custom display boards. Most of us have visited a new-home subdivision and walked through model homes. These folks are experts at the display board business! They have boards that feature the neighborhood, the surrounding community and the features of the homes. You should have similar boards for the community (see below), plus boards that also showcase market data such as neighborhood appreciation rates, days-on-market statistics and recent pending and sold information. Determine what pieces you want on your boards, and then customize them for each house (and neighborhood) that you hold open.
Provide historical sales. People want to know what sort of investment they might be in for, especially if they fall in love emotionally with the house. Show visitors historical data going back far enough to highlight positive appreciation rates, and what they may expect going forward.
Display a "community board". Your board should include information on the community, such as population, demographics, parks, city services (police, fire stations, city hall), schools, and shopping.  You may also want to create a portable flyer version that visitors can take with them. Show where this house is in relation to other community amenities. It's easy to overlay a street map with indicators for parks, schools, shopping and restaurants, and create a flyer that attendees can take with them. You may also want to include an aerial view of the neighborhood with the home clearly indicated.

Have open house book available. I talked about these booklets above. Once you have your system in place and format done, it's simply a matter of adding your "open house tour" pages.
Provide extra amenities that set your open house apart. Offer shoe covers (also called "booties") for those people who prefer not to remove their shoes. Or lay down carpet runners in high-traffic areas.  Some agents I know set out a basket of toys and coloring supplies for kids. You'd be surprised how easily this can build additional camaraderie with parents, while also providing a welcome respite for kids who were tired of having their parents drag them from open house to open house.
There is a lot of information in this Zebra Report, and many ideas for how to create a memorable open house for every attendee. It may feel overwhelming at first.  Just tackle one piece or idea at a time and start building your system and plan.  Before you know it you'll have everything you need to really 'wow' your open house visitors
In case you missed any of the posts from this series, you can view the full list below:
.