… Even When You Are Not There.
In my classes, when I am reviewing the importance of having a strong brand, I often have agents ask me what I think about their brand and request a critique. This is one of my favorite things to do because it not only allows me to see a lot of different types of brands, but I also get to help agents by providing an honest and unbiased opinion.
A brand is a visual expression of who you are, what you offer, and what your clients can expect from you. A good brand reflects your personality; it is memorable and graphically cohesive. It is well-balanced and the colors are enticing. The colors do not repel or make it difficult to read the piece. Colors are very powerful in branding and marketing, and they need to be chosen carefully.
In general, I find that agents have a difficult time creating a cohesive brand, one that has memory markers, one that tells their story or indicates what the client experience would be like for a potential buyer or seller.
I get excited when I see agents embracing brand development because the power of a good brand is limitless. Agents on some level know their branding can do the marketing for them when they are not there, but they often don't know where to begin.
Let me give you a few great examples of agents who we are working with who have learned the power of having their brand capture the essence of working with them: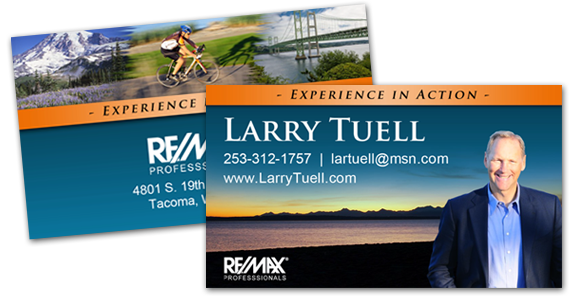 Let's introduce you to Larry Tuell…
Client care is very important to Larry. You just need to take one look at his photo and see his great smile to know that he is very friendly, approachable, and great to work with. But what else do you notice about him? You might take note of the Tacoma Narrows Bridge and understand the market he works in. You might also take a look at the image of the bike and realize that biking is important to him. In fact, all of the images he uses on the brand are outdoor photos, including the photo of him! Therefore, if recreation is important to a buyer or seller, they might have great rapport with Larry!
In fact, Larry has taken his brand to a whole new level, really getting out and about in Tacoma and putting it on video:

Larry now has a system and a visual brand that allows potential clients to get an impression of what it is like to work with him before ever even utters a word to the client directly.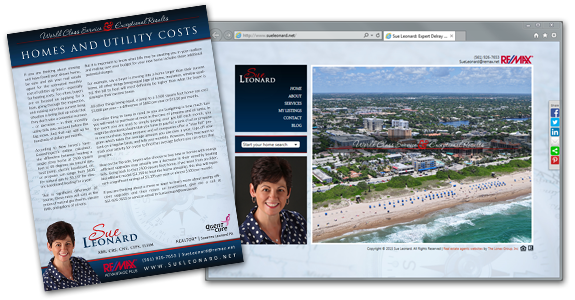 Now let's take a look at Sue Leonard…
Take a look at Sue's brand. What impression do you get of Sue when you take a look at her brand? She also has a great smile and is approachable. But because of the imagery and tagline, you might get the impression that she works in a water-based area, focused on boating and providing the service and client care that an international clientele expects. You would be right! She is an expert in her area and serves international clients in Delray Beach, Florida.
Take a look at your brand. What story does it tell about you and your business? Does it provide a picture of what it is like to work with you? Can it speak for you and provide an impression when you are not there to do so?
If you are not sure, send it our way. We would welcome the opportunity to take a look at it and provide you with an honest critique. And yes, we can help you fix it! Send a few samples of your brand to [email protected].
In the meantime, please take a look at our Branding Portfolio for further ideas and inspiration!