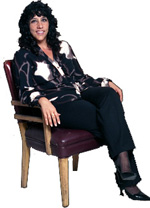 Q:  Denise, after several months of farming, I just got my first call (yeah!) and I am going to a listing presentation this week. I have created my farming bible that you recommend and I want to have some current market information with me. What should I bring?
A:  Congratulations! I am so proud of you and am so glad that you stuck with it. Some of the most successful agents I know got to where they are now because they chose a farm, mailed consistently, and stuck with it (even though it might have been months before they got their first call).
What I would bring with you in addition to your information on the individual properties that have listed, pended, and sold are market trends. Show where median home prices (and price per square foot if your area warrants it) are now versus where they were last year, five years ago, ten years ago. Show supply and demand comparisons by showing in a graph how many listings there are versus homes that go under contract in a given month and at least a year back. This sets the stage for the pricing conversation. You may also want to have some information on days on market and list to sales price ratios. These are also very helpful in painting a realistic picture of the now market for that area.