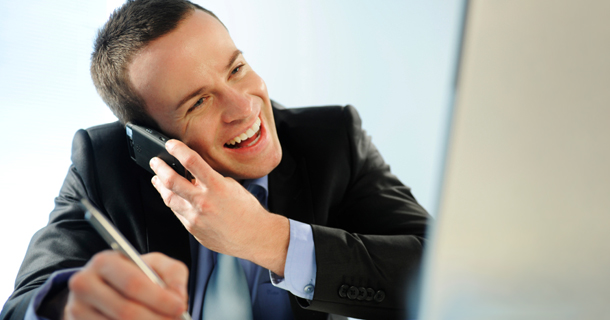 Successfully Converting Telephone Leads
Two weeks ago I talked about converting internet leads … and last week I talked about converting "live" leads. Today I want to talk about converting telephone leads.
By far the most difficult lead to convert is the telephone lead. But agents who can master this type of lead conversion can double or triple their results with very little effort.
You probably won't be surprised to hear me say that the way to successfully convert telephone leads is to differentiate yourself. Differentiation is a key concept that runs through my coaching and training of real estate agents.
But how do you differentiate yourself on the phone? 

It's easier than you may think!
Don't think of the telephone as a one-way communication device or ordering system for a potential buyer. Often, when we get a call it's a potential client asking how big the bedrooms are, what the homeowners dues cover, or whether the house is in a certain school district. My point is that the caller is looking for specific data about the listing.
Let's imagine you get a sign call from a buyer asking about the price of your listing. Of course there should be onsite marketing such as flyers that would provide that information, but let's pretend all the neighborhood children have taken your flyers and made paper airplanes out of them.
The tendency is to answer, "It's $450,000." And then the conversation sort of dies. You try to flog it along by asking questions like, "Do you want to see the house today?", or "Having you been looking for houses long?" or "Are you working with an agent?"
Instead, try this approach. "Thanks for calling! I would love to share some information about the home. It's listed at $450,000. Is that in your price range?" If they answer yes, you would respond with "Not only might this house meet your needs, but there are some other great options I know of as well. I would be happy to send you all of the listings in your price range that I think are a great value. Would you find that helpful?"
With this simple offer you've elevated yourself from a robotic responder or a pushy salesperson to a helpful professional who is familiar with inventory in the marketplace. You've offered a natural extension of the conversation should they be inclined to chat. And you aren't asking them all sorts of questions that you haven't earned the right to ask. People don't like pushy salespeople, so don't be one!
Converting telephone leads requires you to develop some sort of relationship during the time you're on the phone with them. You must convince the caller that you can offer more than other agents.
What can you offer? Here are a few suggestions:
An appreciation analysis of the neighborhood
Average market times for homes listed in the area
Listing and sales prices for the community over the last three years
Do you think most agents are offering this level of service? I can guarantee you they are not!
Building a relationship over the phone is about giving, not taking. You have to be good at picking up on the clues, and being aware of when someone is open to sharing more information. Most importantly, you have to have the mindset of giving information, not taking it. That one simple concept will help you immensely in handling phone leads.
I'm often challenged by agents who think it's a mistake to offer information about a house other than the one a buyer is calling about when placing a sign call. They've assumed that I'm responding to a question about one of my own listings, and the general feeling is that my seller wouldn't appreciate me not giving a big sales pitch for their home by also talking about other homes on the market.
If you're concerned about this here's an easy way to prevent misunderstandings with your seller – just tell them up front, during the listing appointment or early in the listing, that you may get a phone call about the house and what your process is for talking to potential buyers about the home. Explain that you will send information about their home and others that might work for a potential buyer, and that the shoe is sometimes on the other foot. There could also be a time when a potential buyer calls about a different home and you will also send information about the seller's home – even though it's not the one the buyer called about. It's good to remind sellers that buyers don't like aggressive sales pitches … and that leads often need to be cultivated by being a good resource – not just a salesperson.
So remember when responding to telephone leads: give, give, give. Don't interrogate. Offer information that no one else is offering. And don't push or expect information from a potential client that you haven't earned the right to receive.