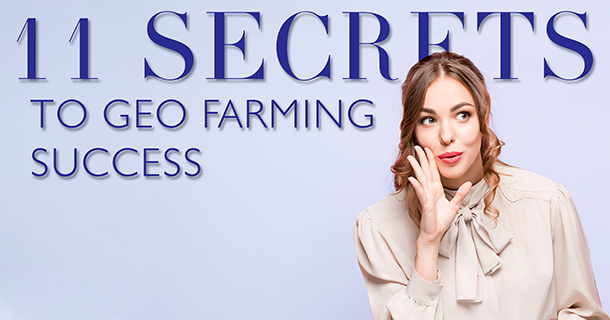 Many real estate agents utilize geographical farming to build a strong predictable lead generation system. It is easy to send postcards to your farm and call it good but is that getting you the results you want?  If not, then it is time to make some tweaks to build a strong PERSONAL PRESENCE.
When I started geographical farming, when I first started selling real estate, I began with sending postcards which was a great start but I sent out the same thing month after month. My message was okay, but it didn't get me the kind of results I wanted as I needed to get up and running fast. After learning what did and didn't work for my farm, I eventually had a winning formula. Here are the secrets to my farming success:
1. Mix It Up
I learned early on that sending the same size piece could become too predictable. My formula was simple, four times per year I sent an 11 x 17 large folded brochure type report for my Quarterly Report, six times per year I used an oversize postcard format and the other two times I used an 8.5 x 11 article type template. The key was to mix up the sizes to create interest.
2. Get Involved
I worked hard in all my farms to get involved with what was going in the area and to get home owners involved. One way I did this was to have a For Sale By Owner section in my larger newsletters that allowed people to advertise things they wanted to sell. This turned into an incredible community resource. It was a fantastic way for me to get to meet and talk with homeowners when they were placing their ads. Today's agents might consider utilizing social media for something like this.
3. Connect Connect Connect
When someone placed an ad, I then would use this as a great excuse to send them a personal card to inquire if they were able to sell their item and to just connect. I would find any excuse possible to send out a card.
4. Show Up
This is by far one of the THE most important things you must do when you have a farm. You need to show up to any neighborhood events, tour any new homes that come on the market (don't forget to leave your business card), and get inside every open house so you get to know every house in the neighborhood. Showing up also means that you show up with great research on an annual basis that gives every homeowner a very clear picture of how their neighborhood did during the year. I did this by creating an Annual Neighborhood Review, an intensive research rich document that every homeowner got. I wanted each homeowner to know that I was the expert in the area, and I proved it with very detailed and thorough research.
5. Use Neighborhood Events
As you show up to the local events, document those events. My farm area had a Christmas Light Decorating Contest every year and I photographed every home and then posted them in my newsletter. I even gave out prizes and had the neighbors vote on their favorites, this event proved to be an incredible business-building event for me every year. I got to meet so many neighbors and they loved having me photograph their home. And when I made photo books for my winners of the Christmas Light Contest I even had my brand and contact information listed prominently in the book.
6. Use Great Branding
Anything I sent out to my farm had my brand on it, I wouldn't mail anything without it. And I don't mean only my firm brand. I'm talking about a complete, consistent, visual style that is unique to my business and that memorably represents who I am. I want to be unique from the field of look-alike agents and show that I'm serious about my business.
7. Use Color
Color is by far one of my favorite ways to capture people's attention. Although I had the color palette that I developed with my brand, I used accent colors to match the seasons or a particular event. While I don't recommend going crazy with color, consider including a photo that represents the seasons or event and take your cues from the colors in that photo. For example, if your branding color palette is red, black, and gray, adding a summer photo with water and a kayak might provide an opportunity to include a light blue that can be found in the water so the whole piece feels cohesive, but different than what you sent the previous month.
8. Use Content
You will never win over anyone in your farm area if your content is not compelling. Compelling content include data, timely information on recent activity in the neighborhood, local, regional and national news that pertains to real estate locally. Find content that creates engagement. I had about 10 things that were my go-to pieces of content and I would mix and match – what sold, active and pending numbers, 10 year comparison, months of inventory, interest rate watch, median sales price watch, information from your local planning office, and more. What pieces of information are relevant for your area?
9. Keep it Research Rich
One of the smartest things I ever did was create what I called my Farming Bible. It included printouts of the last three years of sales, information on median sales prices, price per square feet, property taxes, etc. It was a robust binder that I brought to every listing presentation and open house and it showed anyone that came across it that I meant business when it came to research and I was clearly the local expert.
10. Be Available
You can do all the work to build a farm but if you don't respond quickly you will lose the opportunity to be interviewed for the job. I can't tell you how many times I won listings over my main competitor in the farm because home owners would call me after calling my competitor and they would hire me because I responded right away. Many times I would hear horror stories about other agents not returning sellers calls for days. I always responded immediately.
11. Signature Touches
I went out of my way to make every sale I had in the neighborhood memorable and I always did something very special for every neighbor that moved out of the farm. I had change of address cards made for them, I had their home professionally cleaned so their move out was easier and I always gave them a personal gift. The feedback I got was incredible and the other neighbors soon learned that I was a real pro.
If you want to dominate in your farm area, this is your checklist for success. Your farm area can be your consistent lead generation faucet for years with a little extra effort.